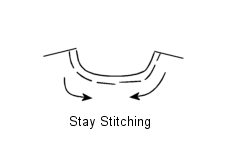 Stay Stitching 
Stay stitching is used to prevent stretching and fraying in fabric. Stretching can occur when handling and sewing curved areas. Fraying can occur where curves are clipped. Start at the edge and stitch to the center. Repeat on opposite side. 
Stitch Length and Width (also see Chapter 5: Setting Up Your Machine) 
Stitch length: refers to how long each individual stitch is. 
Regular:   11 - 12 stitches per inch
Basting:    6 stitches per inch (i.e. a longer stitch, so fewer per inch)
Gathering:  6 - 8 stitches per inch 
Generally, heavier fabrics work best with a longer stitch length, and finer fabrics are best with a shorter stitch length. Proper stitch length is important and is a first place to start if you do not like the look of your stitching. For example, a slightly puckered seam in the fine fabric could be caused from too long of a stitch length - the feed dogs are feeding too much fabric through each stitch, making a puckered look. To correct this, a shorter stitch length should be used (also check tension). 
Remember that the higher number of stitches per inch translates to a short, tighter stitch. 
Stitch width refers to how wide the stitch is. A regular straight stitch has no width, but a zig-zag or decorative stitch can be set to any number of widths.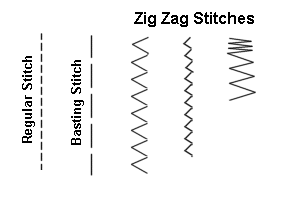 STITCH LOCKING 
When sewing any seam, always lock the stitch at both ends. To do this, sew in reverse at each end. This will hold your seam, so it does not come apart at the ends.