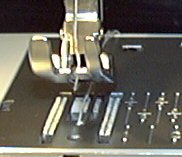 Feed Dogs
The photo on the right shows the feed dogs. Feed dogs feed the fabric (keep the fabric moving) while the machine sews. Never push or pull your fabric. The fabric will be fed through for you. Gently guide your fabric as it is being fed through while being stitched. Place one hand on the fabric as it comes out the back, and the other hand on the fabric that is still being fed from the front. Use your hands to gently guide the fabric so that it goes through straight. DO NOT push or pull on the fabric.
Refer to Chapter Six: Guiding Fabric for more information and tips on guiding fabric. 
Differential Feed And Walking Feet
Feed dogs feed from the bottom only. When sewing through two layers of fabric, it is possible that one layer will be fed at a slightly different rate than the other layer. Although your two layers can be perfectly lined up at the start of stitching, by the end of the stitching line the layers can be "off" (one shorter than the other). This is VERY frustrating. Therefore, two different solutions have been developed. 
If you are lucky, your machine will have differential feed. This can be engaged or not engaged depending on what you are sewing. My Pfaff quilting machine has differential feed and it is truly wonderful. Both layers of fabric are fed at the same rate. 
If your machine does not have differential feed, you can accomplish the same thing by using a walking foot. It is a special foot that attaches to your machine. A sales person familiar with your type of machine can help you select the right foot for your machine.
Presser Feet
Presser feet hold the fabric in place as the feed dogs guide the fabric being sewn. They also serve various specialized functions, depending on the type used.
Examples of special feet are the rolled hem foot, which causes the fabric to roll under for stitching, and the applique foot, which has an opening in the back to allow the bulk of the satin stitch to pass through. Other special feet that are commonly used include the zipper foot and buttonhole foot. Knowing what types are available, and when to use them, can make all the difference in the quality of your work. These special feet also reduce the problems that cause the most frustration during sewing.
Find out what type of feet are available for your machine. Special sewing functions can be performed using other specialty feet such as: bias binder, pintuck feet, felling foot, cording foot, special hemmers and many others.