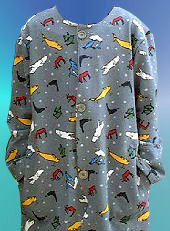 There are several different methods for adding pockets to a garment or other item. This chapter will cover side seam pockets (pocket sewn into the side seam of a skirt or dress) and front pockets (such as on a shirt, or front of tote bag). 
Basically, a pocket must have a front and a back (inside). If a pocket is sewn directly onto a shirt front, the shirt front is the inside (or back) of the pocket. If the pocket is sewn into the side seam of a skirt or pair of pants, the front of the garment serves as the front of the pocket, and a back is created by sewing in a pocket back. 
EASY SIDE SEAM POCKET: I use this method for knit skirts. I also used this method when I changed a tee shirt pattern into a robe pattern.