Attach Ribbing Correctly
sewing lesson
nicely finished inside & out




Designer: Christina Sherrod

Also see more sewing tips




Properly Attached Ribbing

Nothing bothers me more than poorly finished clothing. I always look at how ribbing has been attached, as an indicator of quality. If you look inside the sleeve cuff ribbing and see a seam running to the outer edge of the cuff, the garment was sewn up by what I call the "quick method". This method saves slightly more time, which may be important to a company trying to increase profit, but it makes a poorly finished product. For just a moment more, you can have a very professionally finished piece. Your cuffs, waist ribbing, neck ribbing etc. should be finished inside as well as outside.
Sewing for yourself means that you have unlimited choice of color and fabric, plus you can customize fit, AND ensure quality construction - something you cannot get from store-bought unless you pay more for the higher quality.
thread to match background of fabric
large sewing ruler (optional but nice to have)
scissors or rotary cutter / cutting mat
pins
seam ripper
fabric marker (washable)
Directions - all seams 1/4"
1. Take measurements
Take the measurement of the circumference of the place the ribbing will lie (for example the wrist if the ribbing will be added to the end of a sleeve).
Add 1" to your measurements (unless you want a looser fit - I like my ribbing to fit snugly). I follow pattern directions for neck ribbing length. Let's say your wrist circumference is 6". You will need a ribbing that is 7" long by 6". The 7" length is along the greatest stretch because it must stretch around the wrist. The 6" is determined by the width of the ribbing (more narrow for neckline and wider for wrist cuff).
Cut a pattern (I use butcher paper bought on a roll at Costco) in this size, OR use a large sewing ruler to measure the ribbing to cut. Cut out a piece of ribbing to your needed length. Be sure that ribbing lines run as shown in picture below. You need the stretch to go around your wrist.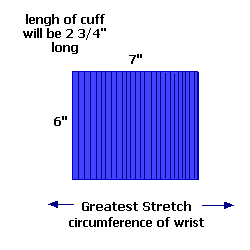 Fold your ribbing lengthwise, right sides together, (it is sometimes impossible to tell which is the right side of ribbing - either side will work in that case) in the SAME direction as the ribbing lines. In my example, the 6" edges will be stitched together. You will now have a tube 6" long by 3.5" across. Sew a seam as shown in the next picture. A serger works best. When finished, fold your cuff in half, right side OUT (see diagram below showing fold line).
Try on your cuff. If it fits well, continue. Otherwise adjust as necessary (if it is too small, you'll have to start over; otherwise, you may be able to stitch a new seam to make smaller). Write down your final measurements and this will be your own unique cuff size. You can use this in all future projects. You can even make up several cuffs ahead of time - for future projects.

Open your cuff so that it has the shape it will have on your wrist. Pin your cuff layers together (raw edges) in four places around the open circle, equally apart in distance (see diagram). This divides the cuff circumference into equal fourths. Place 4 pins around the open end of your sleeve, equal distances apart. This divides the sleeve circumference into 4 equal parts.
Now, place the cuff over the outside of the sleeve, matching seams, raw edges and pins. The cuff raw edges will lie on top of the sleeve raw edges, with the folded edge of the cuff lieing toward the top of the sleeve (like a cuff that has been rolled up). Sew the cuff to the sleeve, gently guiding the ribbing and being very careful not to run over pins (especially with a serger!). Also, be careful to only sew through one layer of cuff/sleeve. You don't want to sew your sleeve shut!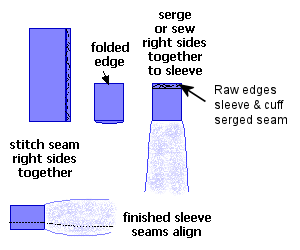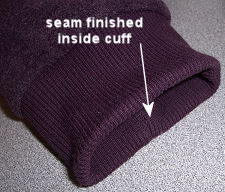 There you are! You now have a beautiful cuff that is finished inside and out. They are a snap to make, especially if you make several at once.
If you have any questions about these instructions, please send an email.
Please Share
I rely on advertising to keep my site free. Please use the buttons at the top of the page to share with friends on Pinterest, Facebook and email.
All Patterns, images and instructions are copyright protected.
Please read our Terms & Conditions before using our patterns.