Lower the feed dogs. Why? Feed dogs hold the fabric between the foot and the plate. Normally, with regular sewing, feed dogs feed the fabric through as it is being stitched. For free motion embroidery, you control the movement of the fabric. Turning and moving the fabric in different directions creates the embroidery effect.
Follow instructions for your machine regarding installation of the darning foot and lowering the feed dogs. My machine has a setting for the presser foot that keeps the foot slightly elevated (barely off the fabric). This allows "free motion" of the fabric. The needle simply goes up and down as usual, but the fabric is not fed by the feed dogs. I move the fabric around as the stitching occurs.
Using a washable fabric marker, lightly draw the detailing you wish to add to your project. I use free motion embroidery to add grasses, detailing on fences, snowman buttons and eyes, Christmas package ribbon, and many other details.
Place stabilizer under your piece, in the area that will be embroidered. DO NOT OMIT THE STABILIZER. Stabilizer is very necessary because it adds the correct body and thickness to the fabric being embroidered.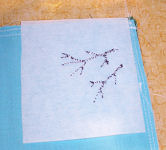 Place the fabric (with stabilizer under the fabric) under the needle and start to stitch. Make sure the feed dogs have been lowered and the darning foot is in place correctly. Move the fabric in various directions as the needle goes up and down. Run backward, forward, in circles, etc. The following photo shows the wrong side with stabilizer.
Practice Use scraps of fabric until you feel comfortable. It really is very easy!
Thread The right thread makes the embroidery really stand out. I use blendable threads; they create beautiful effects. The colors change throughout the stitches, adding interesting color and texture to embroidered twigs, branches, grasses, shrubs, etc.