Craft Patterns: Wood Projects
Craft Patterns For Wood Projects
Dress up your home & yard with unique, hand crafted wood items. We provide several projects for indoor and outdoor wood items.
Our own, original craft and sewing patterns.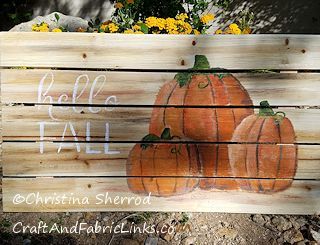 NEW! "Hello Fall" palette wood pumpkin painting video. This free painting video is offered on my youtube channel. I also provide the free pattern for the pumpkins.
Go to: Free Painting Videos for this painting project and many others.
Projects

Wood yard decoration.

Decorative painting on wood
Contributed by Dawn Seevers. Birdhouse and vines.

Twisted vine wreath welcomes spring. Attach flowers and other embellishment.

Hang all of your Christmas stockings on their own tree. Add a tree skirt to complete the look.


Village Platform
Create a wood platform to turn any flat surface into the perfect place for a Christmas village.

"Welcome" pumpkin ready to invite friends and family into your home.

Made from spools and flat sided wood balls, these easy-to-make knobs add a decorative touch for our curtains (includes free curtain pattern).

Create a wood pumpkin for your yard! Adjustable size. Pattern can also be used for card graphics and other small projects.

Create an "aged" affect using crackle paint medium. Directions & illustrations.

Decorative Wood Crafts

Use our patterns and lessons to create your own beautiful wood items. Both decorative and useful, these items are also fun to make.

View All
Accessories
Applique & Embellishment
Bath & Body
Beads & Jewelry
Cards & Tags
Children's Crafts
Embroidery
Holiday
Glass, Mosaic, Ceramic
Home & Yard
Medical Needs
Paper - gift bags, boxes
Wood Projects

Stitch Glossary
Sart Your Business

Craft Supplies Directories
Tutorials Directory





By author Christina Sherrod After working for years as a business consultant, I turned my love of crafts and sewing into a successful business. My dream came true. Yours can too. Start your journey by reading my FREE online business book.
All Patterns, images and instructions are copyright protected.
Please read our Terms & Conditions before using our patterns.