Hello Fall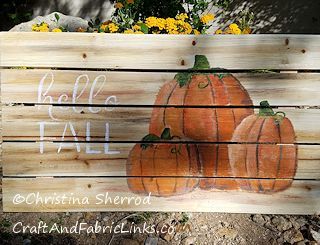 HELLO FALL VIDEO
Learn how to thin acrylic paints using the correct medium, creating a stain effect on palette wood. Then paint on festive pumpkins and lettering. Perfect for fall, Halloween or Thanksgiving. Use the lettering and phrase of your choice. Click the link below if you wish to use my pumpkin pattern.
click for pumpkins pattern
The pattern is a jpg. Print and enlarge or shrink to the size you need.
Also see: Wood Crafts
Front Door Wood Pumpkin