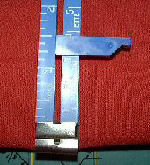 HEMS: VARIOUS STICHES & METHODS
A hem is a finished edge, such as the bottom of a pant leg or skirt. There are numerous methods for creating a hem. Which method is best for a project depends on several factors. Do you want the hem stitching to show? Straight or decorative stitches can be used for hem stitches that will show. Do you want a strong hem? Machine stitched hems will probably be stronger than a hand stitched hem. Machine stitched hems can show on the outside, or be invisible. 
I will cover four methods for adding a hem your item. No matter which method you choose, always take careful measurements (a hem guage is very useful) and use an iron to firmly press under your hems before sewing, if your fabric allows it.
Hem tape adds a nice finish, and is helpful when hand sewing a hem. The hem tape is sewn along the edge of the hem before ironing under the hem. 
Use a hem guage to ensure your hem is accurate and straight.
Cover Stitch Hem
Cover stitch sergers are capable of creating a serged edge inside the garment, and double or triple top stitching on the outside of the garment – all in one stitch line. These machines are very useful for creating hems on sleeves, necklines or lower hems on apparel and other items made from stretch fabrics.
Hand Sewn Hem
Hand sewing works very well, if you are good at hand sewing. If not, you will want to learn how to machine hem. There are times, however, when hand sewing will work best, such as when you want a truly invisible hem stitch. It takes a lot of practice with machine hemming to get an "ivisible" stitch. 
For a nice, almost invisible hand sewn hem stitch, fold your hem under 1/4" and press with iron. Fold it under again to the height you want for your hem (1/2", 1", 1/5" hem depending on what you are hemming and how large you want your hem to be) and press with iron again. Thread your hand sewing needle and tie a knot in one end. Pull the needle and thread through the fold of the hem, close to the folded edge, from the underside to the top. This way, the knot will be hidden under the hem. Pull your needle through only a couple of threads from your garment, just above the place your needle originally came up. If you take too many threads, your stitch will show on the outside. If you take only one or two, your hem could break away later. Refer to figure 1, below. Practice to get a good, strong stitch and the look you want on the outside. Run the needle under the fold of the hem and come up through the fold again. Repeat this stitch around the hem. Your stitch should not show much on the inside, and should be almost invisible on the outside.

Use a thread that matches your garment. Be sure your needle is appropriate for the type of fabric you are using.
Top-Stitched Hem
Iron under the hem 1/4". Then iron under again to desired hem width and stitch the hem in place. Topstitching is actually done on the outside of the garment. I prefer to stitch hems from the wrong side, so I know I am stitching close to the edge of the hem. The hem stitch line will show on the outside of the garment.


Sewn on wrong side


right side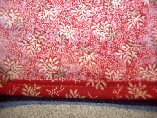 wrong side