Pillowcase Pattern
Standard, Queen & King
Nicely Constructed Pillowcase

Quick and easy beginner's sewing pattern.

Learn how to construct a basic pillowcase, with nicely finished hem.

Also see: Pajama Series




Pillowcase Pattern for Standard, Queen & King
We will teach you how to make a pillowcase correctly. This means the hem is nicely finished - inside too. Poorly made cases have seam allowances that can be seen inside the case on the hem (see photos at the bottom of the page).
Use our free embroidery pattern (bottom of page) to hand embroider a heart vine across the hem.
A pillowcase is a wonderful "first project" for you and your child to work on together. There are endless possibilities when it comes to making your cases uniquely your own. Add applique, lace, ribbon, embroidery, fabric paints or other embellishment of your choice. After making our basic pillowcase, try our other patterns for pillows and pillowcases. Add skills with each new project.
Finished Pillowcase Sizes

Standard Case: 21" x 32"
Queen case: 21" x 36"
King Case: 21" x 42"

These will cover pillows nicely, with plenty of room. We are assuming the following pillow measurements:
Standard: 20" x 26"; Queen: 20" x 30"; King: 20" x 36"
Pillowcase Size vs Pillow Size
The finished pillowcase is 1" wider than the pillow. This gives a bit of room around the pillow, allowing for easier insertion of the pillow into the pillowcase.
For the length of the pillowcase, I add 10" to the length of the pillow. This allows for a nice, 3.5" hem.
If your pillows are not the size of those we listed above, simply do the following to create your pattern:

Width: measure the width of the pillow multiply by 2, then add 2.5"
Length: measure the length of the pillow and add 10"

Example: for a pillow that measures 21" x 30", cut the pattern piece to be 44.5" x 40"
If you prefer a pattern piece that will be placed on the fold of the fabric, cut the pattern half as wide (22.25" x 40" for this example).
Supplies Required
2 yards of 42.5" fabric (for 1 pair of Standard Cases)
2.25 yards of 42.5" fabric (for one pair of Queen Cases)
2.5 yards of 42.5" fabric (for 1 pair of King Cases)
BUY EXTRA & PREWASH FABRIC: You will need the full amounts, so buy a bit extra fabric. Wash and dry the fabric before use.
Thread (to match background)
Ribbon or lace, etc. for trim
Sewing Supplies: scissors, quilting pins, large sewing ruler, fabric marking pencils, seam ripper
hint: quilting pins are easier to use than regular pins; a tupperware box works well as a supply box.
Note: all seams are 1/4 inch. Always iron between steps.
Safety Reminders For Little Helpers
A. Always have an adult do all the ironing!
B. Never run with scissors. Carry them pointed end down.
C. Never use a sewing machine without adult supervision.
D. Always let an adult use the seam ripper for you.

Now you are ready to start!
Please Note: These diagrams are not exactly to scale, but pattern pieces do fit as shown.
Pattern Pieces
First, create the pattern pieces. Cut to the dimensions below if you want to lay the pattern onto unfolded fabric.

Standard Case: Cut 2 pieces 42.5" x 36"
Queen Case: Cut 2 pieces 42.5" x 40".
King Case: Cut 2 pieces 42.5" x 46"
Cut to the dimensions below if you want to lay the pattern onto unfolded fabric.

Standard Case: Cut 2 pieces 21.25" x 36"
Queen Case: Cut 2 pieces 21.25" x 40".
King Case: Cut 2 pieces 21.25" x 46"
NOTE: If you do not have wide enough fabric to fold into a pillowcase, you can use two pieces of fabric. Each piece should be 21.5" wide.
Cut Fabric
If laying pattern pieces onto flat fabric, use the layout on the left, below. "Fold Line" written on the pattern piece refers to the fold you will make when stitching the pillowcase together. If placing a pattern piece that is meant to be placed on the fold, fold your fabric lengthwise, then lay the pattern piece's long side along the fold of the fabric. I didn't use a pattern. I simply folded my fabric and measured 21.25" x 35". Note that it was not 36". I was 1" short. It was fine; it just meant that my hem would be 2.5" rather than 3.5".
Stitch Pillowcase Side & End

Stitch across the pinned short end and the pinned long side.

The photo on the right shows my pillowcase after stitching. I stitched across one open end, then down the long, open side.
Create Hem

With pillowcase still wrong side out, turn the hem under 1/4". Press. Turn hem under 3.5". Press and pin. Use a ruler to make sure the hem is an even 3.5" all the way around.

The photo on the right features a different pillowcase, with the hem pressed and under. Notice that I lined up the hem side seam with the side seam of the pillowcase. This ensures that the hem lines up straight. After I was sure my hem was straight, and 3.5", I pinned it into place all the way around.
Stitch Hem

Stitch hem in place using a straight stitch (this is called top stitching). I stitch on the wrong side, close to the edge of the hem. This is best because if you stitch on the right side, you cannot see the edge of the hem. If you have a free arm machine, stitching will be easier. If you do not have a free arm, take care to not stitch through both layers of your pillowcase.

At this point, you can sew a satin ribbon or lace over the hem stitch line. Applique or embroidery adds a nice touch, as well.
Benefit Of Sewing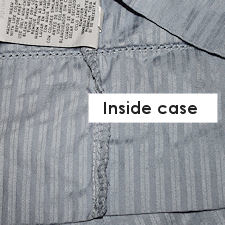 One of the benefits of sewing is quality. I find many improperly constructed pillowcases on the market today. They look alright at first glance, from the outside, but if you look inside the hem area you will see a seam allowance that runs all the way to the outer edge of the hem. The reason is that it is much quicker to construct that way. Time is money in the retail business. Good quality pillowcases are contructed properly, but they are much more expensive. Check out pillowcases you have purchased. Are they constructed properly? The photo on the right shows an incorrectly constructed pillowcase. The seam allowance shows when you peek inside the pillowcase at the hem. The seam allowance should be hidden INSIDE the hem.
| | |
| --- | --- |
| Right: I made myself a pair of comfy pajamas that are color coordinated with my new pillowcase. Don't miss our pajama pants series! Learn how to draft a pattern that fits, sew the pajamas, and add a cuff. | |
All Patterns, images and instructions are copyright protected.
Please read our Terms & Conditions before using our patterns.