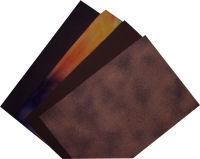 Fabric
Backing fabric (for back of project - cut a piece 11" x 13") 
Four pieces of rock fabric, each in a different print, each measuring 6" x 9" 
Ground: One 1.5" x 8.5" piece of fabric 
Sky: One 5.5" x 8.5" piece of fabric 
Shrubs: Four scraps of green fabric to fit pattern pieces 6, 7, 8 and 9 
Inner Border: (green in our sample) Enough fabric for two strips measuring 8.5" x 1" and two strips measuring 6.5" x 1" 
Outer Border: (gold in our sample) Enough fabric for two strips measuring 6.5" x 2.5" and two strips measuring 12.5" x 2.5" 
Tree Branch: Scrap of fabric for tree branch
Recommended: PRE-WASH ALL FABRIC. Do NOT use fabric softener. Washing will remove any sizing, which will allow for a stronger bond. NOTE: I did NOT pre-wash my fabric. My wall hanging will not be washed often and I found the bond was strong.  
Other Items 
Fusible Web* - I used Heat N Bond Lite
Applique Pressing Sheet
Fusible Fleece (or batting of your choice - cut to 11" x 13")
* Fusible web is a heat activated adhesive. It can be purchased by the yard (like fabric). I used about 10" from my roll of fusible web for this project.
Pattern
Our patterns download as pdf files. For instructions on downloading pdf files, 
go to: pdf instructions. 
Overall Layout 
Pattern Pieces page 1 
Pattern Pieces page 2
Download and print the overall layout to use as a guide. Download and print both pages of pattern pieces. Cut out the pattern pieces.

Optional: 
Stabilizer: Scraps of stabilizer for machine embroidery 
Binding: Strip of fabric measuring 1.5" x approximately 50" (it is the brown border around my wall hanging) 
Hanging Sleeve: If making a hanging sleeve, you will need a piece of fabric measuring 3" x 10".
Sewing Supplies
thread
sewing scissors
quilting pins
large sewing ruler
fabric marking pencils
seam ripper
rotary cutter and mat (optional but nice)