All seams are 1/4"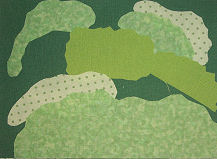 Each shrub can be cut from a separate piece of fabric, or several fabrics can be fused together to create a mixed-fabric shrub. When fusing fabrics, the fabrics must slightly overhang one another along edges - this is how they stay connected. Try to keep the layers to a minimum. If you layer too many fabrics, the applique can be too thick. For example, if you have an area where four fabrics come together and overlap, that area will have the thickness of four fabrics.
For each shrub: cut the web large enough to cover the pattern piece. Fuse it to the wrong side of your fabric, then cut out the shrub piece. Peel off the paper backing.
Fusing: These are the instructions for Heat N Bond LITE: Using a dry iron set on the "silk" setting, iron the rough side to the WRONG side of the fabric for approximately 2 seconds. You will be ironing on the paper side of the web.
The photo shows my "shrubs". The fusible web has been fused to the wrong side of each piece.