7. Add Hanging Sleeve / Assemble & Bind
Hanging Sleeve
Cut a strip measuring 10" x 3" from your backing fabric. Press under the two short ends. Fold strip lengthwise, right side out. Press. Unfold. Lay the strip on the right side of your backing piece (backing piece should measure the same as your landscape piece), aligning upper raw edges. Pin in place. Stitch along fold line and from fold line up to raw edge on each end. Re-fold strip. Press. Stitch upper raw edges together close to the edge.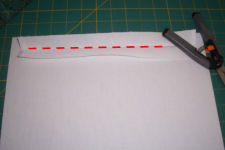 The photo on the right shows the unfolded sleeve being stitched along the fold line. To hang your finished piece, run a wood or metal dowel through the hanging sleeve and place the dowel ends in wall hooks.
For more information on creating a hanging sleeve, go to: Hanging Sleeve Tutorial
Assemble & Bind
For information on assembling and binding, go to: Assemble And Bind Quilt.