Floral Applique - Layered Applique
Lesson: Applique Pressing Sheet
Tutorial & Pattern
Applique Pressing Sheet

An applique pressing sheet makes it quite easy to create a layered, intricate applique. The pieces are fused together first, then ironed onto the end fabric. Use the instructions to learn the technique, or use the instructions plus my free floral pattern to create a beautiful pot of flowers.
Creating The Applique: a 2-step process
Step one: fusible web is ironed onto the wrong side of fabric. Then, the applique pieces are cut from the fabric that is now backed with fused on adhesive (fusible web). The paper backing is removed from all of the applique pieces.
Step two: The pieces are arranged on the applique pressing sheet. The applique pressing sheet is transparent, so patterns show through from beneath. An iron is used to fuse the applique pieces together.
Simply peel your new, multi-piece applique off the applique sheet and iron it onto your project. Detailed, multi-pieced, layered applique made easy.
Many Uses For New Applique
The applique can now be fused (pressed with iron) to card stock, fabric, tee shirts, and other surfaces that are suitable for the fusible adhesive (fusible web).
Floral Pattern
For this project, I am providing a free floral pattern. It will create a beautiful, multi-layered pot of flowers. I first created the multi-piece, layered floral applique, then fused it onto my already prepared flower pot block.
Floral Block Size
This pattern creates one floral block, measuring 8.5" x 11".
FABRIC
One 8.5" x 11" piece of background fabric (I used blue)
Scraps of fabric for flowers, leaves, and flower pot. I used two different floral prints, two green prints for grass/stems, and a dark green print for leaves. You can use small, medium and large floral prints if you wish. The key is to have various shapes and sizes of flowers. Use what looks good to your eye. Try to choose prints with complete flowers to cut out. I added a butterfly, which provides nice detail. You can add bugs, trim, grass around the base, etc. Experiment with your own designs. Free motion embroidery creates nice grass. Go to: free motion machine embroidery lesson.
PRE-WASH ALL FABRIC. Do NOT use fabric softener. Washing will remove any sizing, which will allow for a stronger bond.
OTHER
Applique Pressing Sheet
This is a special type of sheet used for creating detailed appliques. The pattern is placed on a working surface. The pressing sheet is placed on top of the pattern, which can be seen through the sheet. Applique pieces are placed on the pressing sheet. When pieces are bonded with fusible web, they will stick to one another, but not to this sheet (they slightly stick - just enough to stay in place). When the applique is finished it is easily peeled off the sheet and is ready to iron onto your background fabric.
Fusible Web (also called heat activated adhesive)
I used our Heat N Bond LITE
large sewing ruler (optional but nice to have)
scissors or rotary cutter / cutting mat
pins
Pattern
Our patterns download as pdf files. For instructions on downloading pdf files.
go to: pdf instructions.
Applique Pattern
Download the pattern to use as a guide. Print 2 copies. You will use one for placement of pieces. Use the other for a pattern for the flower pot pieces.
NOTE: Save the pdf file to your computer. Print the file from your computer. If you print from the browser, it might not print to the correct size (I have had that problem with Chrome).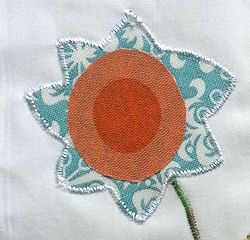 NOTE: My pattern shows general lay-out, and provides pattern pieces necessary for the pot. Cut flowers, butterflies and other objects from fabric. Use my general leaf outlines as a guide for creating leaves. If you would like a ready-made pattern, use the flower instructions I provide on my Happy Day Applique.
1. Cut Fabric Pieces / Fuse Adhesive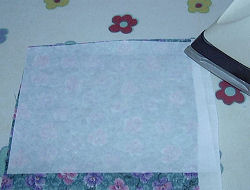 Cut fabric pieces large enough for your flowers, leaves, flower pot pieces, etc. Cut pieces of fusible web (heat activated adhesive) large enough to fit your fabric pieces.
2. Iron Fusible Web To The Wrong Side Of Your Fabric
The following photo shows the fabric I used for my small flowers.
These are the instructions for our Heat N Bond LITE: Using a dry iron set on the "silk" setting, iron the rough side to the WRONG side of the fabric for approximately 2 seconds. You will be ironing on the paper side of the Heat N Bond. Follow the instructions of your fusible web.
Repeat the process of fusing the adhesive to the wrong side of all fabrics: flower pot, flowers, stems, leaves, plus any bug you are using, such as a butterfly.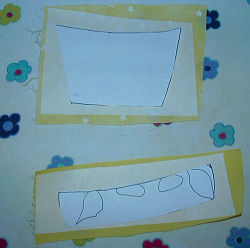 Use the second copy of the pattern to cut out a pattern for the flower pot pieces (ignore the leaf designs in the pot).
3. Cut Out Fabric Pieces
Place the paper pattern pieces on the paper side of the fabric. Trace the pattern onto the paper of the web, or pin the pieces to the web. Cut out all fabric pieces: flowers, leaves, stems/grass, trim, butterfly etc. Cut out the flower pot pieces.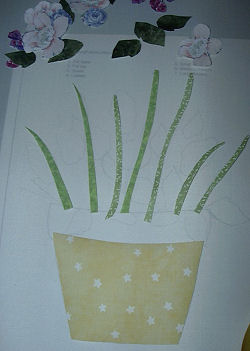 4. Create Multi-Piece Layered Applique
Lay down the 8.5" x 11" pattern. Lay the applique pressing sheet over the pattern. You will be able to see the pattern under the pressing sheet. Peel off the paper backing on the fabric pieces. Using the pattern as a guide, lay out your pieces in the following order:
1. Flower pot base
2. Stems / grasses
3. Flower pot top
4. Flowers
5. Leaves
6. Trim (butterfly etc.)

When happy with the placement, (for Heat N Bond) use a dry iron set to "silk" setting and iron down the pieces, pressing with the iron approximately 6-8 seconds. NOTE: Do this on an ironing board or other surface that can take some heat. The pressing sheet will protect surfaces, but I found that my cutting mat started to warp a bit when it was under my pressing sheet as I ironed (my iron was turned up higher than necessary at this point). The nice thing about Heat N Bond LITE is that it works with a LOW iron setting. If you are using another fusible web, follow the instructions for your product.
When finished, you will have a large applique that consists of a flower pot with flowers, stems, and all other pieces.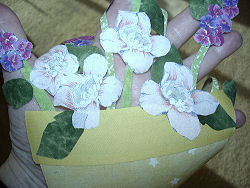 5. Peel Off Your New Layered Applique
Once you are happy with the finished applique, you can peel it off the pressing sheet. Carefully remove the applique, starting at one end and peeling it off slowly.
In this photo, I am actually holding the finished applique in my hand.
6. Use Your New Applique
Place the applique on your background fabric. Use a dry iron set to "silk" and press approximately 6-8 seconds. That's it! You can now finish the edges with fabric paint or stitching if you desire - if you want to ensure a strong hold (if your item will need to be washed often). I found this held up very well for my wall hanging project. In fact, I tried to remove one flower to change the placement and it wouldn't budge.
Use This Method For Landscape Designs
Intricate appliques made from layered fabric can be used for creating many types of designs. This method works well for landscape designs. One of my favorite places is Sedona, in Arizona. I took a day trip there with a friend several years ago, and wanted to capture the day by creating a wall hanging featuring Sedona rocks. Play around with your own fabrics to create shrubs, buildings, rocks, etc.
Please Share
I rely on advertising to keep my site free. Please use the buttons at the top of the page to share with friends on Pinterest, Facebook and email.
All Patterns, images and instructions are copyright protected.
Please read our Terms & Conditions before using our patterns.