2. Create Lower Embroidery Area & Hem Fold Line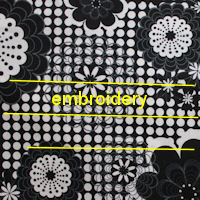 Turn the apron (main piece) right side up. using a large sewing ruler and washable fabric marker, draw a line across the apron piece, 5.5" from bottom edge. This will be the fold line. Continue to step 3 if you are not adding embroidery.
Mark another line 3" up from first line. This marks the base of the embroidery. Draw another line up 2.5" from the embroidery base line. The area between the two last lines is where embroidery can be stitched. The photo is a close up of my grandmother's embroidery.
The hem will be folded under at the 5.5" line and the hem will completely cover the backside of the embroidery. Embroider the bottom area of the apron at this time. If you are not adding embroidery, or if you are finished embroidering, proceed to "Stitch Hem".
The following photos show the embroidery (photo taken after the hem was stitched in step 3).