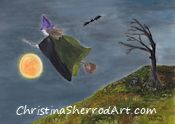 Halloween Cards
Free, printable cards. From my art site. Printable to 5 x 7 card.


Halloween Applique
Beautiful wall hanging.


Pumpkin Placemat
Tuck your utensils and napkin into this very easy-to-make placemat. Your children will have fun setting the table!

Quilted Card
3 mini quilt patterns plus printable templates.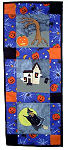 3 Quilt Blocks
Three Halloween scenes. Patterns plus instructions for making a wall hanging. Can also use Halloween quilt blocks in a quilt.


Wood Pumpkin
"Welcome" pumpkin ready to invite friends and family into your home. Cut from wood, paint and finish for that "country look".
Designed by a friend of ours.


Wood Pumpkin

Joyful yard pumpkin wearing his holiday hat. He's ready for fall, Halloween or Thanksgiving. Cut from plywood, paint and set him up outside.


Trick Or Treat Bag

Large front pocket for flashlight, keys or other items. Decorative strap handles. Mitered bottom corners. Quick and easy!


Stamped Cards
Use foam stamps for easy to make Halloween cards. We provide a fun greeting!


Graphics
Some graphics I made for various projects. Print for cards, bags, patterns, invitations, etc.