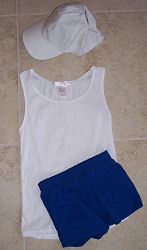 SHIRT
Purchase a plain white tee shirt or tank top. Optional: hat, shorts, backpack, cloth shoes, etc.
APPLIQUE
Method 1: Ready Made Applique
Stars, cheers, names, or numbers. There is a wide assortment of ready made letters and designs. I found several easy to use appliques at Michaels's (craft store). These appliques are simply peeled off from the backing, then ironed onto the shirt. 
Method 2: Create Custom Applique Using A Pressing Sheet
Use this method for more intricate appliques. Create your own applique, using a pressing sheet. An applique pressing sheet makes it possible to create very intricate appliques. Fusible web is ironed to the wrong side of fabric, then the pieces are cut from fabric and ironed to the fusible web. The pieces will stick to one another, not to the applique pressing sheet. The finished applique is then ironed to the shirt. With this method, you can create your own team spirit appliques.
Instructions for using applique pressing sheet  
Method 3: Create Custom Applique Using A Pressing Sheet
(great for creating your own letters) For letters, iron fusible web to the wrong side of the fabric. Cut out the letters or other designs and iron them onto the shirt. You can also use this method to cut stars and other shapes from printed fabric. Look for fabric with stars, sports balls etc.
Fusible Web Instructions/Letter Pattern
Method 4: Create Your Own Design On Your Computer
Use art or text software to create your design. Print to transfer paper. Cut out designs and iron the designs to the shirt. Transfer printer paper can be purchased at sewing, craft or office supply stores.
Free Instructions & Pattern: Shamrock Shirt.
Method 5: Design Your Own Fabric
Design your own fabric on your computer, then upload it for professional printing. Cut appliques from your own fabric.
Design Your Own Fabric: Free Lesson.