Letter Applique Pillow
with envelope back opening
Custom Pillow With Padded Letter Appliques

The letter appliques stand out because they are padded with fusible fleece. The envelope back opening allows easy removal of pillow. No zippers or buttons.
Create custom pillows that spell out a name, or a holiday greeting, or a favorite word. These easy to make pillows really stand out in black and white, with bright red ties. Choose contrasting colors or your choice. My pattern creates a 16" pillow. Simply change the fabric dimensions and letter size to create the pillow of your choice.
This pattern can also be used to create a 14" quilt block.
My pattern creates a 16" square pillow. The letter appliques are approximately 6.5" wide x 8.5" tall.
16" pillow form
Fabric
1/2 yard pillow covering fabric
(fabric must be at least 41" wide)
3" tie fabric
(must be at least 41" wide - in other words, you need a piece of fabric that is 3" x approx. 41" - 44")

7" x 9" piece of letter fabric
Fusible Web 7" x 9" piece
Fusible Fleece 7" x 9" piece
Letter Pattern (see below)
Other
thread to match background of fabric
thread to match letter fabric
stabilizer slightly larger than 7" x 9" (if you wish to use stabilizer for satin stitching around the letter)
large sewing ruler (optional but nice to have)
scissors or rotary cutter / cutting mat
pins
Note: all seams are 1/4 inch. Always iron between steps.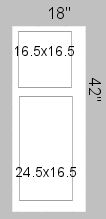 Cut one 16.5" x 16.5" piece of fabric for the pillow front.
Cut one 24.5" x 16.5" piece of fabric for the pillow back.
Repeat for number of pillows you are making.
Create Letter Patterns (or use mine)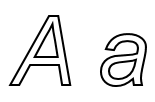 To create your own FREE alphabet for applique, use any software you have that allows you to create interesting letters. Good sources for letters are coloring books and embroidery transfers. The letters at the right were created using Paint Shop Pro.
Or, you can download my letters, available in pdf format. For instructions on downloading pdf files,
go to: pdf instructions. NOTE: save the pdf file to your computer. Print from your file. If you print from the browser, the letters might not print to the correct size (I have that problem with some browsers).
Applique Letters A-J Applique Letters K-Z
Your letters should be approximately 6.5" wide x 8.5" tall. I marked off a 6.5" x 8" area on a piece of paper and drew letters large enough to fill this space, using our pattern as a guide. You can also use a copy machine to enlarge our letters.
Need a different size? Copy at more or less than 100 percent, or print the pdf file at more or less than 100 percent.

Cut a 7" x 9" piece of each of the following:
letter fabric
fusible fleece
fusible web
Do this for each letter needed.
Follow the directions on the fusible web to fuse the web to the wrong side of your letter fabric. If you are using Wonder Under or Heat N Bond (carried in our store), lay down your letter fabric, wrong side up. Place the fusible web over the fabric, paper side up. Iron over the paper side to fuse the web to the fabric.
Place the fusible fleece down, right side up (adhesive side is slightly rougher and is the wrong side).
Peel the paper off the wrong side of your letter fabric. Place your fabric right side up on top of your fusible fleece. Iron over your fabric, fusing the wrong side of your letter fabric to the right side of the fleece.
NOTE: our letters are backwards so they can be traced to fusible web in other projects. For this project, urn the letter pattern over and hold it up to a window. The letters will show through the paper. Trace over the letters (they will not be backwards on your traced side). Place your pattern over the "letter sandwich" on the right side of the fabric and cut out your letter. Set aside.
Repeat for each letter.
Please Share
I rely on advertising to keep my site free. Please use the buttons at the top of the page to share with friends on Pinterest, Facebook and email.
All Patterns, images and instructions are copyright protected.
Please read our Terms & Conditions before using our patterns.