7. Add Star Point Side Borders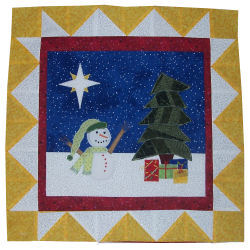 NOTE: I think the star point border adds a nice touch. If you do not wish to work with points, you can create a solid outer border. 
For solid border (in place of the star point border):
Cut two 12.5" x 2.5" strips for the side borders, and two 16.5" x 2.5" strips for the top and bottom borders.
For star point border:
Cut four 2.5" yellow square. Set aside.
Cut twelve 3" yellow squares. Cut twelve 3" white squares.
Cut all 3" squares on the diagonal. Stitch a white triangle to a yellow triangle. Repeat until you have 24 yellow/white squares. 
Square down each yellow/white square to create 2.5" squares.