3. Bond Fabric Pieces To Create Appliques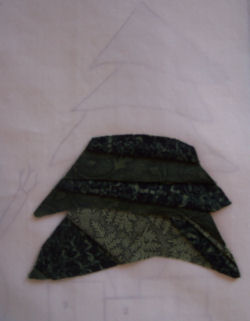 Lay down the "overall layout drawing", right side up. Lay the applique pressing sheet over the layout drawing. You will be able to see the layout drawing under the pressing sheet. Peel off the paper backing on the fabric pieces for the tree. Using the pattern as a guide, lay out your pieces in the following order:
1. tree lowest section
2. tree second section
3. tree third section
4. tree fourth section
5. tree top section
TIP: It is easier to create the Christmas tree in parts. First, create the green part of the tree. Then, lay that part over the trunk. Note that the pieces that will be on the bottom layer are placed first; pieces are then placed in order so that top layer pieces are placed last. 
When happy with the placement of your pieces, press all pieces with the iron. Follow the directions for your fusible web.
NOTE: Do this on an ironing board or other surface that can take some heat. The pressing sheet will protect surfaces, but I found that my cutting mat started to warp a bit when it was under my pressing sheet as I ironed (my iron was turned up higher than necessary at this point).
Allow your applique to cool; then peel it off the applique sheet. Place the trunk piece on the sheet. Place the tree over the trunk piece and fuse trunk to tree. Add packages in the order they are labeled.
Repeat this process with the snowman parts and the star parts. With the snowman, lay down the arms first, then the body and head, then the scarf and hat parts.
For further instructions on using an applique pressing sheet, go to:  Applique Floral Pattern