5. Add Machine Stitching / Embroidery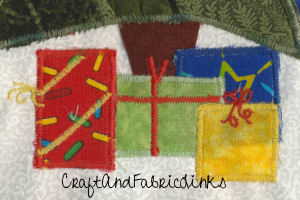 Place stabilizer (11.5" x 10.5" piece) on wrong side of block. Baste it to the block, close to the edge. The stabilizer is necessary only if you are going to stitch a satin stitch around the applique pieces or add machine embroidery (machine stitches or free motion).
I added a satin stitch around each applique piece. I used free motion embroidery to add fringe to scarf, snowman buttons and face, package bows, etc.
I used free motion machine embroidery to create the snowman "fingers", ribbon ties, and scarf fringe. If you are not familiar with free motion machine embroidery, read my article: Free Motion Embroidery.