Reversible Chemo Cap Pattern
free sewing pattern
Reversible Chemo Cap

Tutorial & Photos: Christina Sherrod
Original Pattern: Judy Danz (printed with permission)

Also see Cushion Cover Patterns




Chemo Cap Pattern - donated by Judy Danz

This beautiful chemo cap pattern was generously donated by Judy Danz, and printed here with permission. It is reversible, and fast and easy to make. Adjust the tie length to your own taste. Use soft cotton or cotton flannel for comfort. For formal wear, make a non-reversible hat with an outer shell of velvet. Decorate with rhinestones.
Choose From Two Sets Of Instructions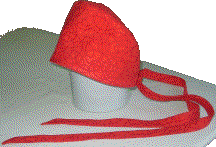 NOTE: We include Judy's original pattern and instructions, plus our own instructions. Our instructions differ in the way the ties are constucted and sewn onto the hat. Our ties are constructed separately, then inserted into the open ends. Read through both sets of instructions and then choose the method of your choice. We also include photographs of the various steps we used. Following photo by Judy Danz.
Patterns include Adult and Child
Fabric
2/3 yard fabric (1/3 yard each of two prints)
Fabric Marker
Favorite turning tool (if using Judy's method of construction: not needed for our method)
Other
thread to match background of fabric
machine embroidery thread (if you wish to add machine embroidered whiskers)
four 4" square pieces of stabilizer (if you wish to add machine embroidered whiskers)
large sewing ruler (optional but nice to have)
scissors or rotary cutter / cutting mat
pins
Pattern
You will need the original pattern and instructions by Judy Danz . We have them available on our site as a pdf file (provided with permission of Judy Danz). If you need instructions on using pdf files, go to PDF Instructions. Follow Judy's instructions provided on the pdf file, or proceed to our directions below.

Chemo Hat Pattern & Instructions. Save the pdf file to your computer. Then open the file and print the pattern.
NOTE: All seams 1/4"
We provide two sets of instructions. Follow the original instructions of Judy Danz (printed on the pdf file), OR follow our instructions. They differ in the method of attaching the ties.

Cut two strips of fabric from tie fabric, each measuring 1.75" x 12" (cut them longer than 12" if you want longer ties). Iron under 1/4" along the long sides and one short end. Fold in half, wrong sides together and press with hot iron. Topstitch around all four sides. The photo shows the finished tie.
2. Construct Main Part of Hat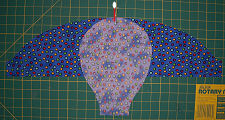 Cut one A and one B from fabric #1. Cut one A and one B from fabric #2. Transfer pattern dots to wrong side of fabric.
Lay one B right side up. Lay one A (of same fabric) over B, wrong side up, aligning centers. Pin at center. In the photo, the center pin is enhanced in red.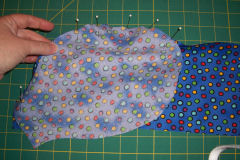 Working along one side, continue to pin A to B, stopping at #1 dot. The photo shows the first side pinned.
Pin the other side, stopping at #2 dot. Stitch between dots.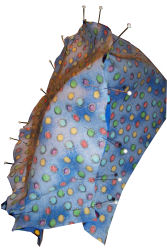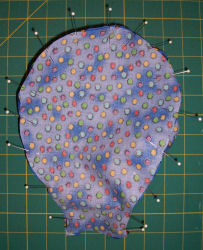 Repeat these instructions for the second set of A and B.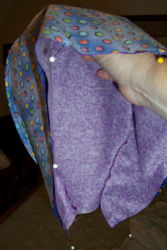 Place one hat inside the other, right sides together. Pin. Stitch from dot #1 to dot #2. The photo shows the layers pinned together.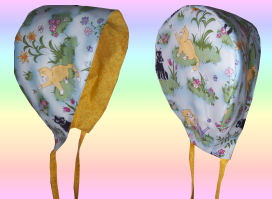 Turn hat right side out. Iron under bottom open edge 1/4". Slide a tie into each end about 1/2v; pin. Topstitch around outer edge of hat, stitching around entire hat.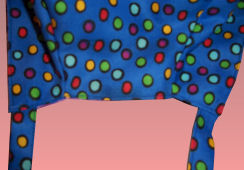 ties sewn into place
Tie in back, behind head. Tie in a bow, or leave ties dangling long.
Please Share
I rely on advertising to keep my site free. Please use the buttons at the top of the page to share with friends on Pinterest, Facebook and email.
All Patterns, images and instructions are copyright protected.
Please read our Terms & Conditions before using our patterns.