Crystal and Rhinestud embellished clothing is all the rage right now. Celebrities, children, even pets have Bling to show their individual personality. Here are a few steps you can take to ensure a long life for your favorite Crystal embellished outfit. 
What Are Crystals & Rhinestuds?
Crystals are cut glass and have the look of a precious gem. Rhinestuds are metal but are facetted like a diamond. Both come is a variety of colors and sizes. The key is to purchase ones that say Hot Fix. This means that the embellishment already has glue on the back and all you need to do is apply heat to fix it to your clothing.
Care Instructions
Yes your favorite Bling outfit can be washed! First, follow the care instructions for your fabric/garment. If the item can be washed, so can the Crystals or Rhinestuds on it.
Tips For Safe Washing
* Turn Inside Out * Machine Wash Delicate Cycle / Cold Water * Machine Dry on Cold or Air Dry
Repair Tutorial: Re-Apply A Crystal or Rhinestud
Oh no! You wore your favorite Bling shirt or jeans with the cool embellished pockets and a crystal fell off! No problem, this can be fixed at home by you. If you were lucky enough to have found the crystal, there is a good chance you can reapply that one. If not, the designer may have included a few extra with your purchase, or you can visit The Stud Shoppe for a large selection of Hot Fix Crystals, Rhinestuds & Tools.
Step 1:
Heat a household iron for 10 minutes. Set at the temperature recommended for your garment (No Steam).
Step 2:
Lay your garment on a heat resistant hard surface.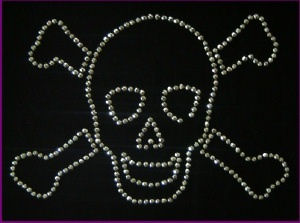 On the left is my son's favorite Skull shirt and it's missing a Rhinestud on the right eye.
Step 3:
Put card stock between layers of the fabric to prevent glue from soaking through.
Step 4:
Place the Crystal or Rhinestud where needed on your garment with the glue side down.
Step 5:
Cover with a pressing cloth. An old piece of fabric or t-shirt will work great.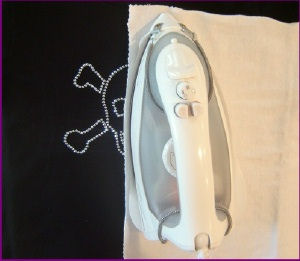 Step 6:
On the left is my son's favorite Skull shirt and it's missing a Rhinestud on the right eye.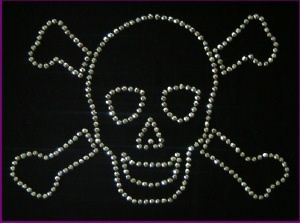 Step 7:
Remove iron and pressing cloth. Run fingers over embellishment to check for a secure hold. If the embellishment is loose, re-heat for an additional 30 seconds and check.
You're done and your outfit looks like new! So easy - you'll never hesitate to purchase another Bling outfit.
Please Share
I rely on advertising to keep my site free. Please use the buttons at the top of the page to share with friends on Pinterest, Facebook and email.
All Patterns, images and instructions are copyright protected.
Please read our Terms & Conditions before using our patterns.