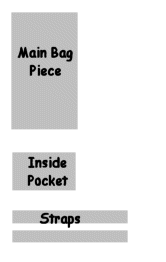 First, cut out your pattern pieces. I use butcher paper, bought on a roll at Costco.
The Main Body piece measures 22" x 33".
The Inside Pocket piece measures 22" x 14".
The straps each measure 3.5" x 24". Make two handle patterns pieces.
NOTE: If you prefer, you can follow the directions later in this project for making handles using regular fabric and interfacing (rather than the double sided, prequilted fabric).