Insulated Tea Cozy
free sewing pattern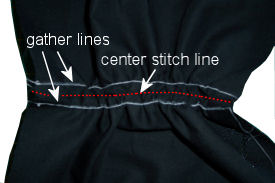 5. Stitch Center Line
Properly served tea is not a tea bag dipped into hot water that has been zapped in the microwave. To create that perfect cup of tea, heat the tea water, add it to your warmed porcelain pot (warmed by running warm water through it), and then add loose tea to the pot. Let it set until the flavor strength is to your taste. Pour tea into cups that are covered with a strainer. Keep your tea hot with your beautiful new tea cozy.
| | |
| --- | --- |
| For viewing purposes, center stitched line is shown in red and gather lines have been enhanced. | |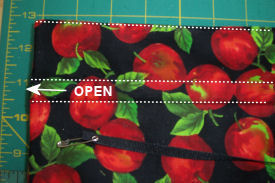 6. Stitch Casings / Ends
Turn under each open end 1/4" to create a hem. Press sides and open ends.
For those using batting: Stuff batting into each side; do not stuff past your casing areas.
Stitch two open ends closed, stitching very close to edge.
Stitch two lines for casings on each end of the piece, using the dots on the lining side as a guide. Your casing lines should be on each side of the holes you left open in step 3.
Stitch lines are shown in white.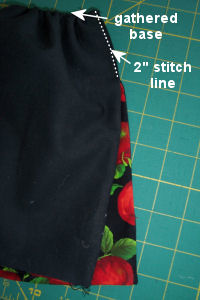 7. Stitch Sides
Fold the tea cozy so that it is wrong side out (lining is on outside). Make a mark 2" from the base. Stitch from base to mark, close to the edge. Repeat on the other side.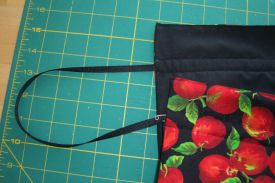 8. Run Ribbon Through
Using a safety pin on one end, run the ribbon through one end of your cozy (through one casing) and then on around through the other casing. Insert tea pot, handle first; tie ribbon in front.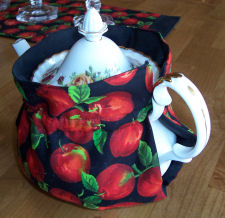 Finished Pot
When tested, our cozy lost only 10 degrees in over 30 minutes, and the water was still warm a couple of hours later.
Please Share
I rely on advertising to keep my site free. Please use the buttons at the top of the page to share with friends on Pinterest, Facebook and email.
All Patterns, images and instructions are copyright protected.
Please read our Terms & Conditions before using our patterns.