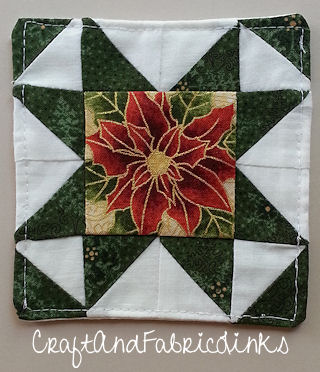 4" finished mini quilt block: (or 4.5" quilt block top if using the template with the 4" cut-out). Refer to patterns on the followign page.
4" square piece of fusible web
4" square piece of batting or fusible fleece (optional) 
Cuttin Surface: for cutting card stock or template
Ruler / Scissors: for cutting card stock or template (exacto knife or small, sharp scissors work well for cutting out the square) 
Cardstock: Cardstock can be purchased in a large package at a chain craft store. Mine came as 8.5" x 11" sheets. I cut it down the center, widthwise, then folded to create cards. Each card measured 5.5" x 8.5". I purchased envelopes at a large discount paper supply warehouse. 
Decorations: (optional)  Other decorations as desired (ribbon, stamps, buttons, etc.) 
Paper:   (optional) For inside of card 
Quilter's Square: For squaring down the quilt block
Paper cutter:   Not a must, but nice to have. 
Scissors & Paper Edgers:   Craft scissors and edgers to add decorative edges to cards, stationery, etc. 
Glue & Adhesives:   Glue sticks, craft glue, foam glue, wood glue, bead glue, iron-on adhesives etc., depending on your project. 
Double-sided tape   Fiskars double-sided adhesive (I LOVE this stuff!)
Computer Printer:   Use for printing greeting text or images to paint with pens.
Large Sewing Ruler / Rotary Cutter:  Optional but nice to have.
Fabric: Quilt top fabric; also backing if you are making a finished mini quilt
Note: you might not need all of the items listed above, depending on your project.
My templates are provided in pdf format. Each template makes two cards. The "with cut-outs" templates include lines for cutting out the square - the mini quilt is placed behind the card front. The "without cut-outs" are for cards that have no area to cut out. The mini quilt is adhered to the front of the card. If you don't see what you need, use a text software or art program to create your own greetings.

For instructions on downloading pdf files go to: pdf instructions
TEMPLATES WITH SQUARE CUT-OUTS 

download Happy Halloween / Happy Haunting templates 

download Happy Holidays / Seasons Greetings templates 

download Merry Christmas templates

download cut-out template: no greeting
TEMPLATES WITHOUT CUT-OUTS
download Happy Halloween / Happy Haunting