5. Assemble The Pot Holder
Layer your potholder as follows. The backing goes on the bottom, wrong side up. Then, layer one piece of batting on top of the backing. Next comes the insulation. Place another layer of batting over the insulation. Place the top fabric piece on top of the other layers, right side up. NOTE: Don't plan on actually using the potholder to hold hot dishes or protect your table or countertop unless you use appropriate batting with insulation. Baste the three layers together close to the outer edge.
Use one of the following two methods for attaching binding and potholder hanging ring. You can use ready made seam binding, or make your own. To make binding from matching fabric, cut strips that are 1.75" (or 1 3/4") wide. Iron in half lengthwise. Open binding. Fold the outer edges to the original center fold line. Fold the binding in half lengthwise and press again. Go to: Continuous Bias Binding Instructions.
USING WOOD OR PLASTIC HANGING RING
If you will be attaching a hanging ring to the back of your pot holder, stitch the seam binding around the perimeter of the potholder. Attach plastic or wood ring to the back side of the potholder.
USING BINDING AS HANGER
The binding itself can be used as a hanger. Sart at the corner the hanger will be attached to. Stitch the binding around the potholder. When you come back to the beginning corner, extend the binding about 5" from the potholder. Stitch the binding closed along the open edge.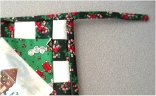 Twist the binding around to make a loop and sew the free end to the back of the potholder.
For more instructions on layering and binding, go to: Assemble & Bind Lesson.