1. Cut a strip of fabric (cut straight rather than on the bias). A 5" x 44" strip will yield approximately 2.5 yards of 1/4" wide finished binding. Lay out strip of fabric wrong side up.

2. Fold down the upper left corner. Press to create crease. Unfold.

3. Using a fabric marker, draw lines parallel to the crease (crease shown in light green below). Draw segments four times the width of the finished binding. For example, for 1/4 inch finished binding, mark the segments 1 inch wide.

4. Cut away unmarked corners.

5. Pin strip right sides together, lining up marked lines. Align the segments so that one width of binding extends beyond the edge on each side.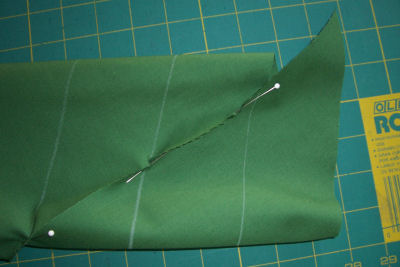 The strip will form a tube as you pin the sides together. Stitch right sides together along pinned edges, using a 1/4" seam allowance. Press seam open.

6. Begin cutting along the marked line. Cut around and around the tube until you come to the end of your line. You will now have one, long, continuous strip of bias binding.