Eyeglass Cases
nicely finished inside and out
Set Of Two Glasses Cases
color coordinated

fully lined




Coordinated Glasses Cases
I have two pairs of glasses. I HATE digging one pair out of the case and holding it while I put the other pair into the same case (such as when swapping sun glasses for regular glasses). Hard cases are too large and bulky to fit into my purse. Store bought cases don't suit my taste or don't fit my glasses. This set of cases is the answer! Made from coordinating prints, they make a nice set. Finished cases are approximately 4" x 6.5". No unfinished edges - nicely finished inside and out!
Glasses Case Size

Overall size: Size approximately 4" x 6.5"

These make up quickly, using fusible fleece.
Supplies
Fabric
Two pieces of 9" wide x 7.5" fabric (in coordinating prints/colors)
Two pieces of 9" wide x 7.5" fabric for lining of cases
Two pieces of 9" wide x 7" Fusible fleece*
* batting can be used instead of fusible fleece; I use fusible fleece for just about everything
Pattern**: Rounded Corner Template

*Our pattern downloads as a pdf file. If you need instructions on using pdf files, go to PDF Instructions. Save to your computer, open from your computer and print. If you print from the browser, it might not print to the correct size.
All seams are 1/4".
Other
thread to match background of fabric
large sewing ruler (optional but nice to have)
scissors or rotary cutter with cutting mat
pins
I made the black & white print set several years ago, so decided to make a new pair of cases when updating this page in 2015. Some photos show my new case (photo at the top), and some show the old case (most of the instructions).
USING ONE FABRIC FOR OUTER SHELL
If you wish to use this easy pattern, but want to make one case out of a single fabric, start at instruction #3. For supplies, cut the following:
Outer shell: 9" x 7"
Lining: 9" x 7"
Fusible Fleece (or batting): 9" x 7"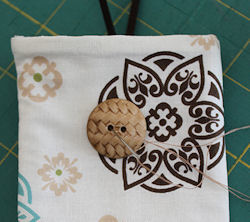 If you wish to add a loop and button closure to your glasses case, follow the directions provided for our cell phone cover.
cell phone case with closure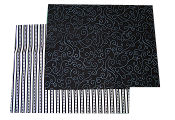 1. Cut two coordinating fabrics, each 9" wide by 7.5". Cut two pieces of lining, each 9" wide by 7". Cut two pieces of fusible fleece, each 9" wide by 7".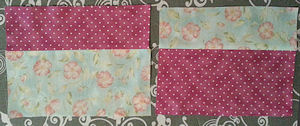 2. Lay one piece on top of the other, both right sides up. Cut across pieces, 3" from top. Separate the pieces. Mix-match the two pieces so that the top section of one is now the top section of the other. Stitch pieces together, right sides together. Press seams open. Finished block should measure 9" wide x 7". If it's not exact, it's OK. Trim sides straight.
NOTE: The top section of my second black/white set was actually cut from a separate piece because I wanted the lines to run in a different direction.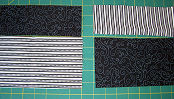 3. Fuse one piece of fusible fleece to the wrong side of each block. To fuse fleece: Place fusible fleece right side up on ironing board. Place fabric, right side up, directly on top of fleece. Press with iron (wool/steam setting).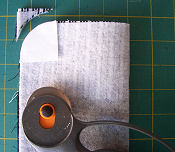 4. Fold fused block in half on vertical center (so that, when folded, it measures 4.5" wide by 7").
Place on working surface so that the fold is on the right. Use the rounded corner template to cut off the upper left corner (opposite to the folded edge). Repeat with lining piece.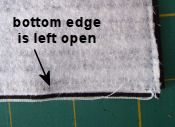 5. Pin lining to block, right sides together. Stitch around three sides, using 1/8" seam allowance, leaving bottom (straight) edge open.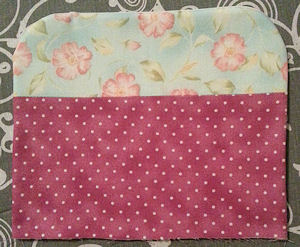 6. Turn piece right side out. The fleece will be on the inside, between the outer layer and the lining. Press. The bottom edge is open.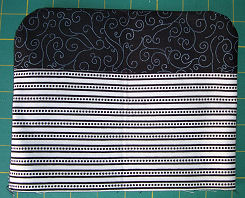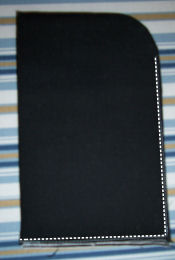 7. Fold in half, right sides together. Stitch down the outer open edge and across the bottom, 1/8" from the edge. Zig-Zag or serge across the bottom edge's seam allowance to help prevent fraying. Turn right side out and press. The seam allowance down the inside outer edge will be very small and is now finished nicely.
In the photo, the stitch line has been enhanced.
CLOSURE - OPTIONAL
Add a snap, loop and button, or ties if you wish to hold the case closed (so glasses do not easily fall out) OR go to our
seminole pieced glasses case pattern to learn how to add an inner pocket.
All Patterns, images and instructions are copyright protected.
Please read our Terms & Conditions before using our patterns.