Easy Panels
Easy valance and panels. No Pleats or gathers. We even show you how to make the
hanging knobs used to hold them.


Easy Topper
Sew or no-Sew, this window topper is quick and easy to make. Adjusts to fit any window. Covers top of blinds.


Easy Lined Drapes
Contributed by Jennifer Thoden of
SimpleSewingProjects


Corner Drapes
Turn a regular pant waist into a comfy, drawstring waist.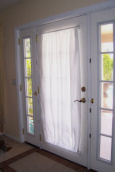 Metal Door Panel
Very Easy! Use magnetic drapery brackets and our pattern for your magnetic door. A fully lined, easy to make panel lets light in while creating privacy. Curtain, casings and lining are all made from ONE piece of fabric!