Cat Beanbag
Adorable toy or door stop. The head and tail are stuffed with fiberfill; the body is filled with dried beans.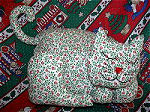 Cat Pillow
Our popular Christmas Cat. Easy and fun to make stuffed cat. Use holiday fabrics to create a cat for each holiday!


Cat Applique
Cat body is slightly stuffed to add dimension.


Lizard
Our lizard applique project contains a pattern that can be used to make a stuffed lizard.