Suitcase Tag
sew or no-sew
Easily Find Your Suitcase
Quick & Easy Suitcase Tag
easily find your suitcase in a sea of cases

Ready for a vacation? Dress up your suitcase first!




Suitcase Tag
Is your suitcase hard to find in a crowd of suitcases? A colorful, unique suitcase tag is the answer. Many people tie bright colored ribbons to their suitcases. You need something different. Made from fabric, these tags are easy to spot in a "sea of bags". Plus, they are quick and easy to make, and are a great way to use up scraps. Make them up as gifts or "stocking stuffers". Mix and match fabrics, use holiday fabrics or choose a theme. Use bright colors to help find your suitcase quickly.
Suitcase Tag Size

Overall size: 1" x 21.5"

Change the length to suit your needs.

All seams are 1/4".
Supplies
Fabric
One strip of 3" x 22" fabric
Note: One fat quarter will make 6 tags
Sewing Supplies:
Large ruler
Rotary cutter and cutting mat or scissors to cut fabric
Other
thread to match background of fabric (or fabric glue or fusible tape if using no-sew method)
large sewing ruler (optional but nice to have)
scissors or rotary cutter with cutting mat
pins
DIRECTIONS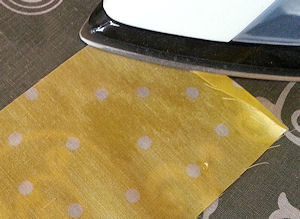 1. Lay out one 3" x 22" strip.
2. Fold under all edges 1/4". Press with iron.
3. Fold strip in half lengh-wise, wrong sides together. Align all edges. Press with iron. Pin (optional).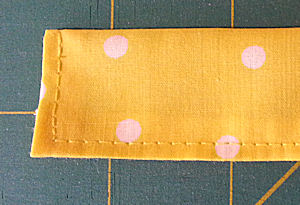 4. Topstitch around all four sides, very close to the edge (1/8" from edge).
Use a square knot to tie onto suitcase handle.
NO SEW METHOD: Fabric glue can be used in place of stitching. After folding in step 3 above, apply fabric glue to all edges and finger press the strips closed.
All Patterns, images and instructions are copyright protected.
Please read our Terms & Conditions before using our patterns.