Designer: Christina Sherrod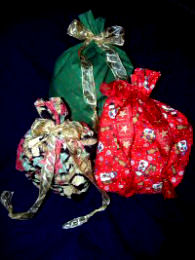 Stitch the seams, hem the top, attach ribbon in the back. Then just tie the ribbon into a pretty bow, and you have a beautiful gift bag! Sizes small, medium and large.

Unlike my gift and wine bag pattern, these bags do NOT require a casing for the ribbon. The bag is stitched together and hemmed. Then you simply attach the ribbon to the outside of the bag (sewn onto the back of the bag). That's it!
You can add your own trimmings and create your own look. These make wonderful gifts themselves, or use them to present your gifts in. I have made several of both types of bag, and they have been passed through the family numerous times as they are used to "wrap" gifts.
Also see:
More Gift Bags
Bags / Purses / Totes