Pocket Tissue Cover
Sewing Pattern
Fun way to use scraps!
Personal Size Tissue Cover
With mitered corners!

Use your favorite scraps to make covers for small tissue packages.




Adorable Pocket Tissue Cover With Cute Mitered Corners
Mix and match fabrics, use holiday fabrics or choose a theme. These covers are easy and fun to make. Fabulous as stocking stuffers at Christmas, or give as a special little gift. Add embroidery or other embellishments to dress them up in your own unique way.
Tissue Cover Size

Fits over a small package of tissue: 1" x 4.5" x 2.5"

Convenient envelope back opening allows easy insertion of tissue package.

All seams are 1/4".
Supplies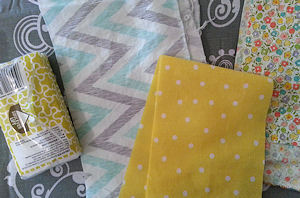 Fabric
Two pieces: each 4.5" x 6.5" for cover top
Two pieces: each 4" x 4" for cover bottom (I used contrast fabric for the bottom)
Other
thread to match background of fabric
large sewing ruler (optional but nice to have)
scissors or rotary cutter
pins
fabric marker or pencil (optional but nice to have)
PRE-WASH, DRY, & PRESS FABRIC BEFORE USING
If you plan to wash your pocket tissue cover in the future you will need to pre-shrink the fabric before using. Cotton fabrics (such as quilt fabric) shrink; pre-wash, dry and press before using.
DIRECTIONS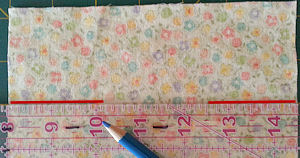 1. Place your two cover top pieces right sides together. Using a sewing ruler, draw a 2" line, lenghwise, from each end. The lines should be in the center of the fabric. I have enhanced the lines in the photo (red line).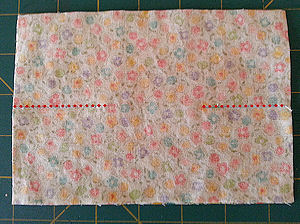 2. Stitch along lines marked. Be sure to back-stitch at each end of stitch lines. I have enhanced the stitch lines in red.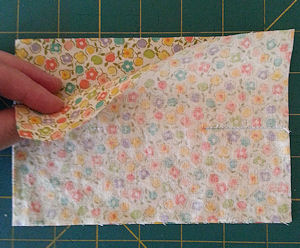 3. Fold down the top layer on the upper half, folding along the stitch lines.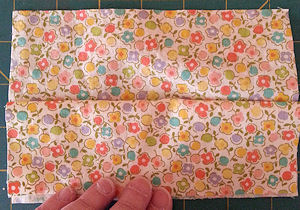 Press. There will be three layers on the bottom half now (and one on top half).
4. Flip the piece over, and place so that the three layers are on the top half. Fold down the top layer on the upper half just as you did on the other side. Press. You will now have a cover top that has an opening in the center for the tissue. The opening is nicely finished.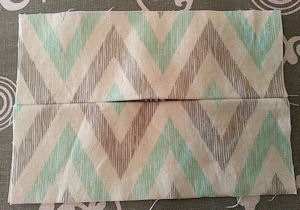 TRIM the cover top to 4" x 6 ". Trim evenly. For example, if you need to trim 1/4" from the length, trim 1/8" from each end. The opening for the tissue must remain centered. You now have a finished top, with a finished opening for tissue. Your finished piece should be 4" x 6". The photo on the right features my second tissue cover.
1. Press under 1/4" on one side of a cover bottom piece to create a 1/4" hem. Press and stitch the hem. Repeat for the other piece. You will now have two bottom pieces, and one finished top piece.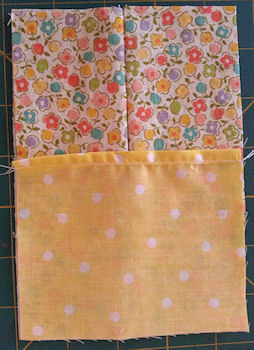 2. Place one bottom piece right sides together with the top piece, aligning the lower unhemmed edge of the bottom piece with the lower edge of the top piece. NOTE: my piece shown had not yet been trimmed to 4" x 6".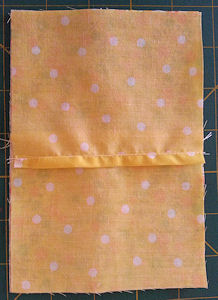 3. Place the other bottom piece right sides together with the top piece, aligning the top unhemmed edge of the bottom piece with the upper edge of the top piece. Pin into place. Stitch all the way around, using 1/4" seam.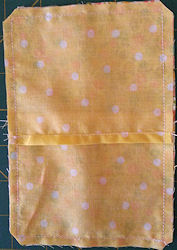 4. Trim the corners, being careful to not clip through stitching.
Finish Your Tissue Package Cover
At this point, you can turn the cover right side out, and insert your tissue package, OR you can add mitered corners. Mitering the corners makes for a nice, sharp corner, rather than having excess fabric at the corners. I use this method when making a mitered cushion cover. Refer to that tutorial for more thorough instruction on mitering.
1. Add Mitered Corners
Pull out the corners, lining up the side seam with end seam. Stitch across. Refer to mitered cushion cover for excellent photos on this process. Refer to the photos below as well. The seams have been enhanced in red.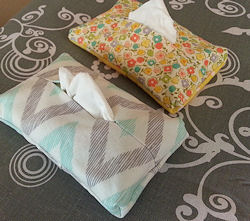 2. Turn right side out. Insert Tissue Package Through Back Opening.

How cute is this! Adorable little mitered corners for a perfect fit.
All Patterns, images and instructions are copyright protected.
Please read our Terms & Conditions before using our patterns.