Fold the fabric across the width. Follow the pattern lay-out shown in the drawing below. Cut out all fabric pieces. NOTE: the lay-out is not drawn to scale, but the pieces will fit as shown.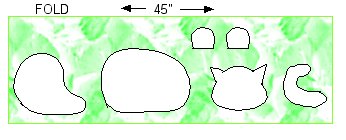 3. Embroider Or Paint The Face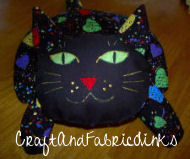 One head piece will be used as the face. Use embroidery floss to embroidery the face, or use fabric paints to paint a face - or a combination of the two.
I used fabric eyes (green), a fabric nose (red) and fabric paints for my beanbag cat's face
4. Stitch Together Body Pieces
Stitch the two head pieces together (face to back of head), right side together, leaving a small area open for turning and stuffing. Do the same with the hind leg and two front paws. It works well to leave the open area on the bottom side because it will show less. It's not always easy to rearrange stuffing after hand stitching the area closed.
Stitch the two tail pieces together, right sides together. Leave the end open that will attach to the body. That end will be used for stuffing the tail.
Sew together the body, right sides together, leaving open a small area on the bottom for stuffing, as well as the area where the tail will be inserted.
Turn all body parts right side out, pulling through the opening. Stuff, then hand stitch the opening closed. For the body, leave the area open where tail fits into body. Tip: When stuffing the tail, leave the tail inside out except for the tip. Stuff that area. Slow turn the tail right side out as you stuff. After stuffing the tail, hand stitch the open end closed.
Insert the tail into the body opening, and hand stitch the tail into place. The tail should be placed inside the body about 1".
5. Put Body Together & Finish
Hand stitch or glue cat's head into place.
Hand stitch or glue hind leg and front paws into place.
Tie a pretty ribbon or handsome bow around the neck of the cat.