"Woven" Baby Blocks Quilt: 28.5" x 28.5"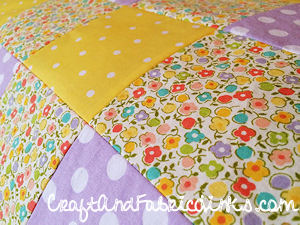 This quilt uses three different fabrics to create a look that resembles a weave. The baby quilt measures 28.5" x 28.5", and is made up of 4" blocks. The lap quilt is made the same as the baby size, but measures 42.5" x 42.5" because it is made up of 6" blocks. The crib quilt measures 28.5" x 52.5". Like the crib quilt, it is made from 4" blocks, but it contains six additional rows. The baby quilt is shown on right (7 rows of 7 blocks).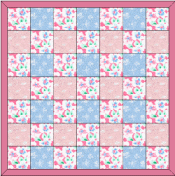 All sizes are constructed in the same way. Blocks are stitched together to create a row, then rows of blocks are stitched together. The difference of size and/or shape is due to the number of rows (baby vs. crib), or the size of the block (the lap quilt uses 6" blocks, rather than 4" blocks). Customize your quilt by adding rows or changing the size of the blocks.
Lap & Crib Size
Basic instructions for constructing the quilt are included on this page, as well as cutting and size information for the baby quilt. Refer to crib size or lap size for specific instructions for the other two sizes.