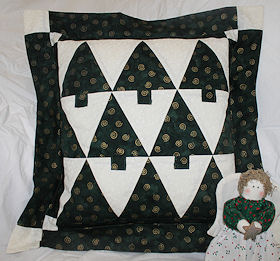 Pin the pillow front and back together, right sides together. Stitch around the outer edge (using a 1/4" seam). Turn the pillow covering right side out (through the envelope back opening). Press. Pin in several places on all four sides along the seam at the base of the ruffle (flange). Then, on the front side of the pillow "stitch in the ditch" on the seam line along the base of the flange. If your pillow back and front pieces are lined up correctly, with the top flange seam right on top of the back flange seam, and you stitch in the ditch through both front and back pillow pieces, your stitching will not show on either side. The stitching will be right on the seam on both sides of the pillow. You might want to hand baste with contrasting thread before machine stitching to ensure proper placement.
Place 14" pillow form inside your beautiful new pillow cover.
USE OTHER QUILT BLOCKS
NOTE: This pattern works well with any 14.5" (when unfinished) quilt block. For a different look, use my free  bear claw quilt block pattern. Assemble the pillow in the same way, with flange and envelope back opening, but use a different 14" quilt block.