Lay out all pieces (fronts and backs), right side up. Place a lining piece over each piece (lining is against right side of stocking fronts and stocking backs). Stitch around all sides EXCEPT top, using 1/4" seam.
Turn front pieces right side out. Use turning tool or blunt end of crochet hook or similar object to help push out seams. Press. Top will be open. Repeat with back pieces.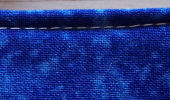 Turn under upper raw edges of front pieces, all the way around, and press. Pin top opening closed. Top stitch across top, closing opening.
You now have four front pieces and four back pieces, finished all the way around.
The following photo shows one finished front piece. The front fabric is blue with snowflakes; the lining is white. The front piece is finished nicely all the way around. It is not yet stitched to the stocking back. I quilted the snowflakes at this point.