Foam Cushion & Cover
for wheelchair, sofa, chair, or bench
Cushion With Mitered Corners

These instructions will make a perfect fitting seat cushion and cover for your sofa, wheelchair, chair or bench. Mitered corners make a nice fit, and an envelope back opening allows easy insetion and removal of the cushion. I used these instructions to make a nice doll bed "mattress" and cover. I needed a custom mattress to go with the wood cradle my father had made for my daughter.
This pattern can be used to create a comfortable, square or rectangular foam cushion and cover in any size. We layered high density foam with low density foam to create a very comfortable seat cushion.
Adjust instructions to make your own cushion any size you need.
Seat Cushion/Cover Size
Our cushion and cover measures 15" x 17" x 4" (we used two pieces of 2" thick cushion so the overall thickness was 4"). Adjust our instructions to create the right sized cushion for your needs.
Foam
One piece of high density foam, measuring 15" x 17" x 2"
One piece of low density foam, measuring 15" x 17" x 2"
NOTE: Measure your wheelchair seat (or chair or bench) to be sure this is the correct size for your chair. I purchased my foam at a fabric store, and it was already pre-cut to this size, which was perfect for the chair I was making this cushion for. I experimented with foam pieces and found that placing the high density foam on the bottom and layering the lower density foam on top provided the most comfort.
Fabric
Cut enough fabric to cover your cushion. Refer to Cushion Cover Instructions for detailed information on measuring cushions, or refer to the directions below. Remember that this project's cushion is 4" thick.
Other
thread to match background of fabric
large sewing ruler (optional but nice to have)
scissors or rotary cutter / cutting mat
pins
Directions - all seams 1/4"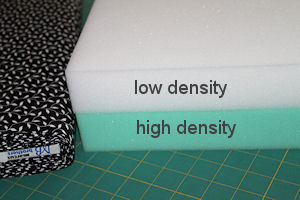 1. Cut Cushion Cover Top
The formula for the cushion cover top length (L)is: L = length of cushion plus cushion depth plus 1/2" (for seam allowances).
Using our cushions, L = 17" plus 4" plus 1/2".
The width (w) = width of cushion plus depth of cushion plus 1/2".
Using our cushion, W = 15" plus 4" plus 1/2".
For my cushion cover top, I cut a piece of fabric measuring 21.5" x 19.5"
Directions - all seams 1/4"
2. Cut Two Cushion Cover Bottom Pieces
The back is made up of two pieces. The width is the same as the top piece. For the length, we will use the measurement of the top length, and adjust it a bit. Add 3" for overlap plus 1.5" for hems. The width is still 19.5", and the length is 26".
For my cushion cover back, I cut a piece of fabric measuring 26" x 19.5".
Cut the back piece into two pieces, across the width. I made my cut about 8" from one end.
For my cushion cover top, I cut a piece of fabric measuring 21.5" x 19.5"
3. Hem Back Pieces
Turn under one edge of both back pieces 1/4". Press. Turn under another 1.5". Press. Topstitch hems.
NOTE: The images below are of a cushion cover I made to use as a doll bed. The cushion worked as the mattress and the cover made a nice "matress" cover.
| | |
| --- | --- |
| edges hemmed | edges overlapped |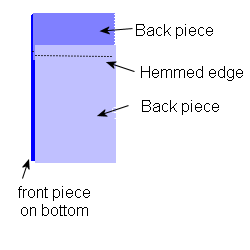 4. Sew Back To Front
Place the front piece on a flat surface, right side up. Place one of the small back piece on top of the front piece, wrong side up. Place it so that unhemmed edge lines up with the top edge of the front, and the hemmed edge is toward the bottom. Place the second back piece on top of the other two pieces, wrong side up. Place it so that the unhemmed edge is lined up with the bottom edge of the front, and the hemmed edge is toward the top. Stitch around all four sides. Refer to drawing.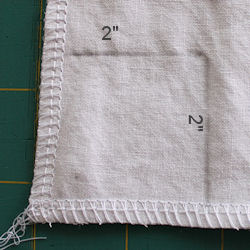 5. Draw Miter For Corners
Draw Miter Lines Divide the depth of your cushion in two. Our cushion depth was 4". Therefore I used a measurement of 2". Use this number as the size of your square.
Using a quilter's square, or other measuring device, and a fabric marker draw a square in each corner. I drew a 2" in each corner. The 2" started at the stitch line of the seam.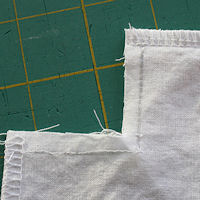 6. Cut The Miter Square
Using sharp scissors, cut out a square 1/4" from the square you drew. Your cut-out will be 1/4" SMALLER than the square you drew.
Pull apart the layers and line up the seams so one is on top of the other. Line up the top cut edges. Pin layers together. Stitch layers. The stitch line is enhanced in red in the image below. This creates the mitered corner. Repeat on all four corners.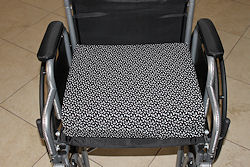 Turn the cover right side out. Place the foam pieces inside your beautiful new cover. Remember that the denser foam goes on the bottom.
Bling Project: Add bling to your chair.
Please Share
I rely on advertising to keep my site free. Please use the buttons at the top of the page to share with friends on Pinterest, Facebook and email.
All Patterns, images and instructions are copyright protected.
Please read our Terms & Conditions before using our patterns.