All seams are 1/4"
These directions are for unidirectional fabric - the bag is made from two pieces (one for front and one for back). If your fabric is multidirectional, you can fold the fabric across the width of the bag, omitting the bottom seam.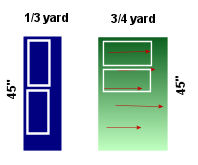 Cut two 20.5" x 11.5" pieces from each fabric selection.
The drawing on the right shows layout for multi-directional fabric, using 1/3 yard, or unidirectional fabric with pattern running lengthwise, using 3/4 yard. The drawings are not exactly to scale, but pieces do fit as shown.
You will have a total of 4 pieces of fabric when finished, each measuring 20.5" x 11.5".