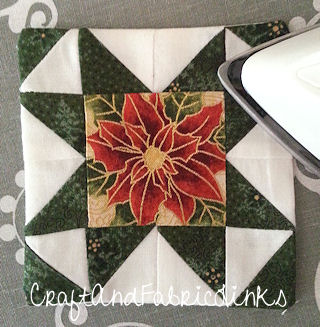 If you plan to attach a mini block to the front of the card, the block needs to be finished. Pin the backing fabric to the quilt block top, right sides together. Stitch all the way around, leaving a few inches open for turning, using a 1/4" seam. Clip the corners.
Turn right side out; push corners out; press. Press under the open edges. Topstitch around the block, 1/8" from the edge. The topstitching will close the open area.
If you plan to place the quilt block under the card front cut out area, you do not need to finish the block. Leave it at 4.5" square.
Optional: a layer of batting can also be added if you wish to add padding and/or quilting to the block. I did not add batting.
Your block is now ready for use on a card or other project.