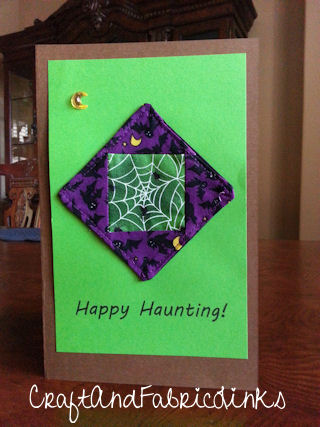 Fold an 8.5" x 11" sheet of cardstock, cross-wise. This creates the card body. Place the quilted card front on the front side of the folded card. Use glue, double sided tape, or a glue stick to adhere the card front to the card. Add buttons, stickers, bling and other decor as desired. 
Glue a piece of paper inside the card and write a personal message - or print a message, using your computer and printer; then trim the paper to any size smaller than 5.5" x 8.5" (which is the size of the inside of the card) and glue your message paper to the inside of the card.
The following photo shows my Halloween block, with moon sticker.
HINT: If you want the recipient to be able to use the mini quilt (it is a nice size for a coaster), use double sided tape, rather than glue or fusible web, to adhere the mini quilt to the card.