Create Custom Zipper Pull For Purse Top Zipper
This step is optional. The parts that make up a zipper are the zipper tape, zipper coil, zipper slider and zipper pull. For some reason, it is very difficult to find zippers with nice pulls. The selection is limited and expensive. I like to buy my zipper coil on a roll, and cut the zipper to the length I need. OR I buy nylon coil zippers and cut them to fit. Either way, the pulls are usually not very appealing. What makes a purse look professional are the details such as zipper pulls.
My daughter came up with the perfect solution. Cut off the pull that comes on the zipper and create a custom pull. All that's needed is a jewelry "O" ring, and a charm or other custom item. I purchased an inexpensive silver tone sand dollar that was created for earrings.
Cut off the old pull, using a wire cutter. The zipper might now work correctly at this point. I was able to slide the slider UP, but not back down. This is because the slider must be lifted off the coil a bit to slide correctly and this could not be done without a pull. It worked fine after our new pull was attached.
"O" rings have an opening so that they can be opened. Using your fingers or a jewelry tool, bend the ring so to open it. Slide on the charm. Slide the ring through the opening in the zipper slider. Close the ring. See photo above. Voila! A beautiful new zipper pull.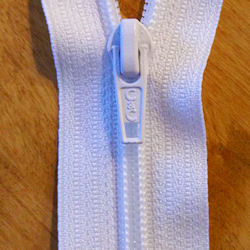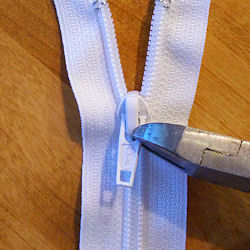 Continue to page 4 for directions for purse top zipper