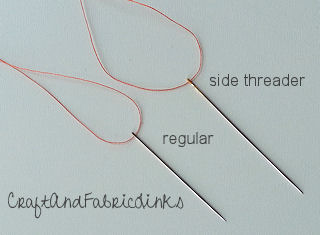 My experience: Being able to see the eye perfectly is not required. The eye of the needle is small. For lower vision people, the eye is still difficult to see, and the side opening is difficult to spot. That is OK, however, because seeing the eye and side opening perfectly is not necessary. I took off my glasses as a "true test". After a few attempts, I had it working perfectly.
For easy threading, wrap the thread around the needle, then gently slide the thread toward the eye. The thread will catch at the side opening. When you feel the catch, pull down slightly (this brings the thread into the side opening), then pull up to pull the thread into the eye.
The needles come in a variety of sizes and types. Her website also provides a link to a tutorial on using the needle to bury thread when quilting.
As Pam says, the SENCH™ needles are a "cinch" to thread.
For more information, or to purchase the Spiral Eye Needle or the Sench needle, go to: SpiralEyeNeedles.com