Pool Toy Organizer
made with PVC pipe
PVC Pipe Yard & Pool Toy Organizer

Snap together sections of PVC pipe to create a handy set of yard toy holders. Place the two holders the distance apart your toys require. Our instructions create 3 slots, each 24" high. Need more slots? Simply add more sections.
Clean up your yard and deck with this easy to make toy caddy. Made with PVC pipe, it is a fast and inexpensive project. Caddy is made up as two units. Toys are placed between units.
Toy Caddy Size
Our instructions create three slots, each 24" high. Space the two pieces as close together or far apart as you need to change length. Add sections to create more slots.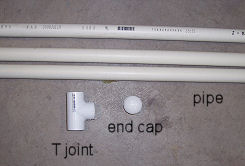 The following supplies will make the two units:
6 five foot pieces of 3/4" PVC pipe
OR 3 ten foot pieces of 3/4" PVC pipe
(you can use either one - choose according to what your vehicle will carry)
PVC pipe is available at hardware stores
16 3/4" end caps
12 3/4" T Joints
marker
T square (tool for marking straight line on pipe)
tape measure
safety goggles
saw (saber or hack)
paint thinner & rag (to clean pipe)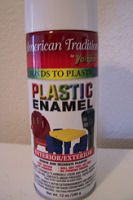 Optional: plastic enamel spray paint (to paint pipe), glue (if you wish to glue pieces together - we did not use glue)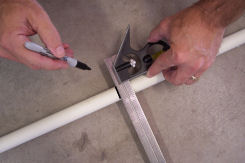 Step 1: Clean PVC pipe with paint thinner or other cleaning solution.
Step 2: Use the tape measure and marker to mark 8 24" pieces of pipe,14 6" pieces of pipe, and 4 3" pieces of pipe. Make a small mark at each interval. Use the T Square to draw straight lines for cutting at each mark. Refer to photo at right and drawings below.
NOTES ON CUTTING: Drawings are obviously not to scale, but cut marks are placed as shown.
Each small cut represents 6"; each tiny cut represents 3", each larger cut represents 24". Each unit requires 7 6" pieces, 2 3" pieces, 4 24" pieces, 8 end caps and 6 T joints.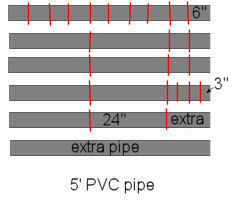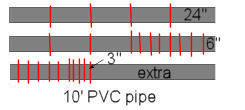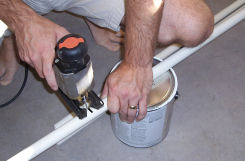 Use safety goggles to cut pipe. If you are not skilled in the use of power tools, ask an experienced person to complete this step for you.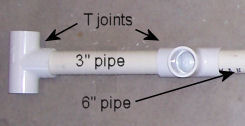 Step 3: Lay out 6 T joints. Attach a 6" piece of pipe between each set of T joints (total 3 6" pieces). Attach a 3" piece off each end. The two end T joints are connected to the 3" pieces and these T joints lie flat on the floor. The other connecting T joints face up. Refer to the next two photos.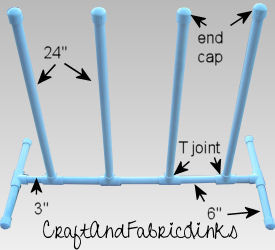 Step 4: Connect a 6" piece to each open end of the two end T joints. Connect a 24" piece to the remaining 4 T joints. Place an end cap over all open ends (8 end caps are needed per unit). Repeat for second caddy.
Step 5: Using plastic enamel spray paint (secially formulated to adhere to plastic) paint your new toy holders. NOTE: If you are planning to glue the pieces together, do so before painting. We chose not to glue our pieces. This way, we could disassemble for storage during winter months.
To add another slot, simple add 1 additional 6" section of pipe. You will need an additional T joint, 24" section and end cap as well.
All Patterns, images and instructions are copyright protected.
Please read our Terms & Conditions before using our patterns.