3. Attach Letters Or Other Applique
If you wish to add letters, do so at this time.
If you are going to wash the mat by hand, you may not need to sew the letters into place. If you plan to machine wash the placemat, I recommend stitching around each letter or applique. Edges of appliques can be outlined with fabric paint to help prevent fraying. Spray-on glitter can also add a nice touch.

Go to: Applique / Fusible Web Tutorial for applique tips and instructions.
Go to Page 1 for my letter patterns.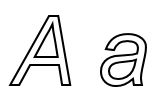 To create your own FREE alphabet for applique, use any software you have that allows you to create interesting letters. Another good source for letters is coloring books and embroidery transfers. I used a graphics program to draw my letters.