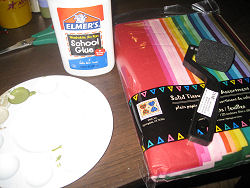 1 paper mache box (purchase from craft supply store)
tissue paper or napkins 
school glue 
paint brush (small roller brush works well) 
hot glue gun, glue sticks (optional: for decorations)
miscellaneous decorations such as ready made bows, beads, "jewels", flowers, buttons, etc. (optional)
NOTE: You may wish to pre-paint the box. Use Gesso or other primer, then paint, then follow these instructions for adding a layer of paper. Watch my Paper Mache Box Painting Video for instructions on painting paper mache items.