Futon Cover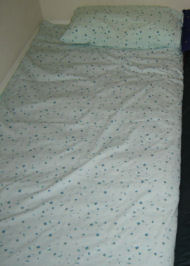 A visitor sent this photo of the futon cover she made, using my directions.
This is a Japanese shikifuton. It's a mattress for sleeping at night, and can be folded and put in the closet during the day. In our small house, it helps with allowing an extra room when we need it. I used the Lounge Chair Cushion Cover pattern to make a sheet for my husband's futon, and only needed to adjust my measurements slightly. The futon measures 78" long, 36" wide and 3" thick. I had enough left over to piece a matching pillowcase for him too, and will now be making covers for myself and each of our children.
It fits perfectly, my husband says it looks perfect, and it keeps it cleaner now. Thanks to the original pattern designer *, it's great for a twin size futon!
Julia G., Lexington, Kentucky
A special thanks to Julia for sending in this photo.