Measure Your Lounge Cover
My lounge cushion measures 25 inches in width, and has a length of 80 inches. NOTE: I measured from side seam to side seam for total width, and I measured from the seam at the head to the seam at the foot of the lounge cushion for total length. I will use my measurements for this pattern. You will need to adjust your pattern to fit your own lounge. The concepts and directions work for many sizes.
My twin sheet measured 66 inches x 96 inches, which was enough to cover one lounge. You will need to check the measurement of your twin sheet to be sure it is large enough for your lounge cushion (cushions tend to be similar in size, so you should not have any problem).
Cut Sheet Into Two Pieces
NOTE: If using a new sheet, PREWASH AND DRY YOUR SHEET! This will shrink the sheet. If you do not pre-shrink the fabric, your beautiful new futon / lounge cover will be too small after it shrinks in the wash.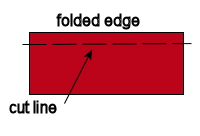 Adjust your length and width measurements to include seam allowances and a bit extra room (you want your cover to fit nicely, but not so tight that it is difficult to get the cushion into the cover). In my example, my measurements were 25 inches x 80 inches. I will add 1 inch to both length and width for seam allowances, plus 1 inch for added room. Therefore, my width must now be 27 inches. In my case, the sheet was wider than what I needed for the total width of the front and back pieces. Therefore, I folded my sheet in half, lengthwise, and cut off the extra area along the fold. Refer to the diagram. My cut width was 27". I found that using my big sewing ruler, a rotary cutter and cutting mat worked best.