1. Cut Top and Bottom Evenly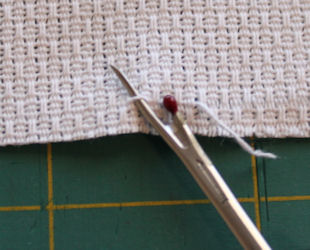 Usually, huck cloth comes 16" wide, with 15" area for embroidery. 1 yard makes 2 towels (see note above under supplies regarding how much to buy). Fold the yard in half, across the 16" width and cut cut across the width to create two towels, each 16" wide. Each piece of huck cloth will be 16" x 18". The two side edges are already finished, so hemming them is optional. I left mine unhemmed. 

Stitches are done in rows, so you need to be sure that the fabric is cut straight. To do this, flip the cloth to the back side (side with horizontal floats) and use a seam ripper to cut one horizontal thread on the bottom and top of the fabric piece. Pull this thread out, all the way across. This gives you a visible line that is one horizontal thread across the fabric. Cut the fabric on that line. Don't worry if the fabric doesn't appear to be straight. You can pull it into shape. The important thing is that the cut is on one straight line of fabric thread. OR, if you have good eyes, use your vision to cut across the width by cutting along one even line of thread. NOTE: the photo below right shows the thread being pulled from the top side (vertical float side). It is actually easier to do from the back side. You can omit this step if you are finishing the top and bottom edges. 

NOTE: Cutting across the width along a thread is not crucial, but think of it as you would cross stitch. Your design will be done exactly on the lines, by counting vertical floats. Your design will run across the fabric in a straight row. If the top and bottom edges of the fabric are cut at a slight angle, the top and bottom edges will appear a bit crooked. If you purchase your fabric from us, we cut our yards about an inch extra. The towels do not have to be exactly 18" in length anyway, so if you lose a bit by evening up the top and bottom, that is OK.
Wash and dry the two pieces of fabric. The ends will fray. This is fine. You can leave the frayed ends as is when finished or add a hem and hanger (see my instructions at the end of this project). 


Decide where you want the enbroidery row to be. Fold the cloth in half, lengthwise, to mark the center of the row. Place a pin on the center float. I counted the floats on each side to be sure my pin was in the exact center.