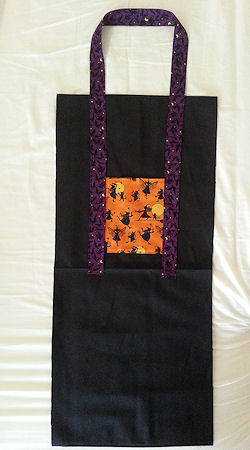 Cut two strap pieces, each measuring 3.5" x 53".
Strap 1: Press under each long side 1/4". Fold the strap wrong sides together, lengthwise. Top stitch around all four sides, 1/8" from the edge.
Place strap 1 onto the main bag piece so that the two ends are 1/4" beyond the center fold line. Fold the straps as shown on the easy totebag instructions. I placed my strap ends approximately 3" from the bag sides. It doesn't matter where, exactly, they are placed, but they need to cover the sides of the pocket. When the straps are stitched into place, the stitching will hold the pocket in place. Pin the strap handle into place.
Stitch over the previous stitching, stitching down 1/8" from the edge on both sides of each strap end.